MINI CLUB FOR CHILDREN FROM 3 TO 8 YEARS OLD
LOOK FOR 'LES SKIMÔMES'. IT'S THE PLACE TO BE!
THE WHOLE PACKAGE FORM ESF ARC 1800
Enrol your child in the MINI CLUB at Les Skimômes and you can choose to have your child looked after by our daycare team which comprises of ski lessons, meals at lunch (if required) for a half or full day. Children are welcomed at the MINI CLUB from beginner to 3rd star level.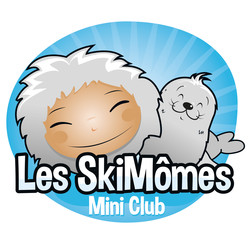 ATTENTION: MEALS ARE ONLY AVAILABLE FROM MONDAY TO FRIDAY - THERE ARE NO MEALS ON SUNDAY!

The ESF MINI CLUB SKI PACKAGE includes the following:
2.5 hours of ski lessons supervised by our ESF professionals (5 hours if the full day is taken)

1 hour reception and babysitting, before and after the ski lessons (2 hours for the day courses)

Access to all the facilities of the MINI CLUB Les Skimômes

A ski lift pass required to access the ski lifts:
> provided free for children under 5, request on site at the ESF office
> to book with the ski lessons for children of 5, 6, 7 and 8 years for Flocon preparation levels, 1st star, 2nd star and 3rd star.
>
SPECIAL PRICE SKI LIFE PASS - 40% discount on the 6 day Classic pass = 142 € / child
Medal included in the package
DURING CHRISTMAS / NEW YEAR HOLIDAYS AND FEBRUARY HOLIDAYS:

ESF have developed a new ski package/course for 3 years olds.
The experience of our qualified and professional instructors can now be enjoyed by the very young in this course.
Your child will ski at the foot of the slopes in our beautiful kindergarten and Piou Piou area for 1 hour 15 mins. The course then includes activities and games on the snow (sledge, sleigh ride, awakening to nature).A must for every 3 year old!


HOME:
The meeting points for children is located at the MINI CLUB Les Skimômes located at Les LAUZIERES residence, CHARVET village, in Arc 1800 (next to the ESF kindergarten with direct access to the slopes).

The team of the MINI CLUB Les SkiMômes comprises of qualified instructors with the BAFA accreditation.

Indoor activities as well as outdoor activities are organised to ensure children fully benefit from their first experiences on snow and mountain life.

Our daycare package also includes:snowshoeing, barbecue, meeting Piou Piou, treasure hunt, make-up, games and much more.

For the little ones having a short nap is not organised but can be if the group requires a rest.

Ski lessons are supervised by professionally qualified instructors from the ESF.

Ski activities for children aged 3 to 4 years old including beginners and snowboard lessons take place in the ESF garden which is equipped with snow cannons, treadmills, ski lifts, a snow line and a turnstile.

PRACTICAL INFORMATION:
We advise you to register your children in theMINI CLUB at Les Skimômes before your arrival because places are limited. Online bookings are possible up to 7 days before your arrival.

The ESF team of the MINI CLUB at Les Skimômes awaits your arrival on Saturday afternoons from 14:00pm to 18:00pm to finalise the registration of your children (issuing of club cards, introducing the weeks program, allocation of lockers and the storage of equipment).

IMPORTANT: If you want your child to begin his/her course on Sunday morning the pre-booking on a Saturday afternoon is essential. Children arriving on Sunday mornings will not be able to complete the course.

The MINI CLUB does not provide ski equipment. Personalised lockers are available for your child's ski equipment and personal belongings (after-ski, soft toy, helmets, gloves etc)

The rules and insurance conditions of the MINI CLUB at Les Skimômes are there to ensure children from the age of reception from 3 years old to 8 years old are toilet trained and have extra clothes in the event of an accident.

For any registration to the MINI CLUB at Les Skimômes:
Parents must send the your child's red health book as well as the ESF form 15 days before your stay. It is compulsory to present the health record (mandatory DT Polio) and a proof of age upon your arrival.
The host discounts can not be applied to ski courses of the MINI CLUB of Les Skimômes.


CONTACT US:

MINI CLUB at LES SKIMÔMES for 3 to 8 year olds – LES LAUZIERES - Village du Charvet - Arc 1800
Tel : 00 33 4 79 04 24 31
Email :
Contact us via our email form online
BOOKING INFORMATION:

Chalet ESF Arc 1800
Tel : 00 33 4 79 07 40 31
Email :
Contact us via our email form online
For your children to get the most out of each package/lesson/course we thank you for thinking about:
Equipping your child with the correct attire: helmet, ski jacket, hat or cap, sunglasses, sun cream, mittens opposed to gloves, handkerchiefs, spare clothes if required and snack if required.

Although it is great to watch your child, please avoid watching your child in lessons from a prominent position. If you wish to watch please be out of sight from your child as our instructors cannot get the best results if mummy or daddy are in view.

Wearing a helmet is highly recommended for children on the slopes.

Leave it to our ESF instructors to decide on any possible change of class for your child. Children progress in different ways so some children may be put up a class or down in some cases. Your child is on holiday and the goal is to have fun and want to come back, so we ask you to encourage your child to 'stick with it' even if weather is cold and /or they are finding it difficult at first.

Protect your children properly according to the weather conditions.

Temperature-appropriate clothing including sunglasses and sunscreen are essential in good weather and goggles in poor weather.

PLEASE PLACE YOUR MOBILE PHONE NUMBER IN YOUR CHILD'S POCKET.
INFORMATION ON BOOKING BY MAIL
For any reservation by cheque or holiday voucher please send to us by mail via the booking form.